Quality Restroom Mats to Keep Facilities Cleaner
Matting (rubber, foam, acrylic, etc.) is commercially available for safe, domestic and office use with a high brand-equity value among all types of citizens and corporate employees. These mats are manufactured with exclusive compliance to the requirements of Environmental Protection Authority (EPA). Depending upon the application, a specific quality of these mats can be procured and utilized for the purpose. Salient applications of these mats are given below.
Bathrooms
Bathrooms are usually constructed with smooth flooring and tiled walls. Being frequently used both at the domestic and office environment, they are prone to accumulation of algae and fungi. These contribute to a slippery area. Apart from this, they are a fresh breeding ground for bacteria to incubate and multiply. This situation leads to infection for human beings and domestic animals as well. Hence, hygiene has to be taken care of in these premises.
Antimicrobial treated-mats ensure absence of algae and fungi and related bacteria. Apart from hygiene, these mats provide high safety for the users from slip and fall and consequent injury. This is especially relevant to business owners and corporate groups as they are responsible for the safety of the workers during office hours. This is achieved because the rubber protrusions of these mats grip to the floor and enable firm flooring for safe use, free from hazards. This is particularly so, as the area remains wet owing to repeated use of water. Hence, such mats are suitable for wet area.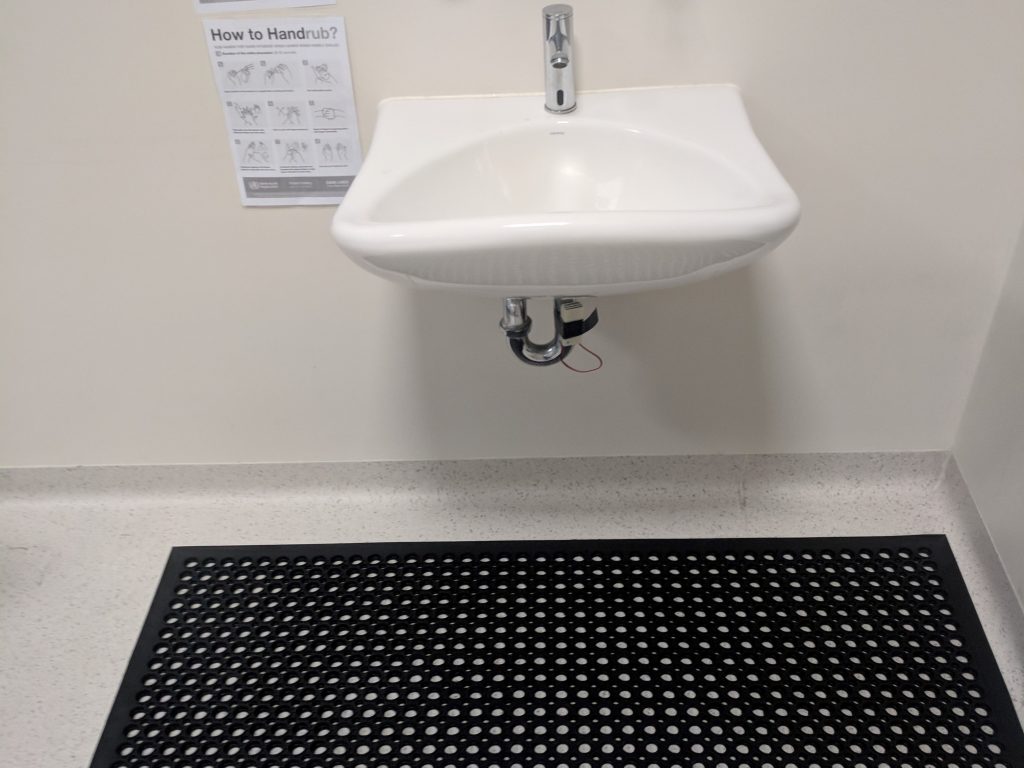 Restrooms
Restrooms are provided with a variety of facilities such as wash basin, commodes and urinals. The maintenance of these restrooms has been done traditionally by frequent washing and use of disinfectants. However, this method involves frequent human labour and temporary shutdown causing inconvenience to urgent users. Restroom mats are a replacement for overcoming these disadvantages. The EPA- approved high-quality mats can be used under wash basin, urinals and within toilets surrounding the commode area. They are eco-friendly good absorbents. The holes in the wet-step mat provide for easy draining of water and provide slip-resistant features.
In recent times, disposables are preferred both for domestic and office use in view of their easy availability as cheap products in bulk quantities. Disposable urinal mats come under this category, providing anti-septic and anti-microbial environment for the users. Apart from this, launderable mats are also available with poly-propylene matrix which facilitates rapid water evaporation. Features such as attractive fabric borders and rounded corners add décor to the interiors.
Hygienic environment in bathrooms and rest rooms are a delight to the users. Maintenance of good health is top priority of individual families and corporate giants as the medical cost for treatment of infection and injury is stupendous. The use of matting supplied by professional manufacturers supports brand equity concept and ensures uniform quality assurance. This adds to the confidence of the employees and benefits the Management in terms of productivity. The use of mats ensures minimal use of water preventing odour and erosion. Sanitation as an important aspect of living is emphasized.
BACK TO ALL POSTS