Pairing Your Desk with Anti-fatigue Mat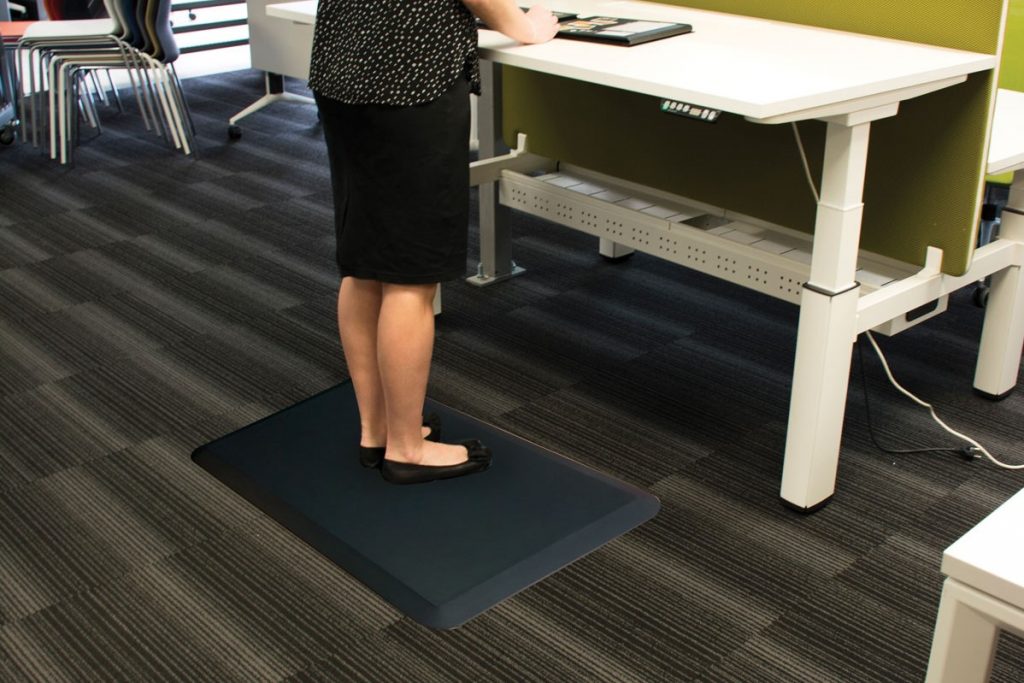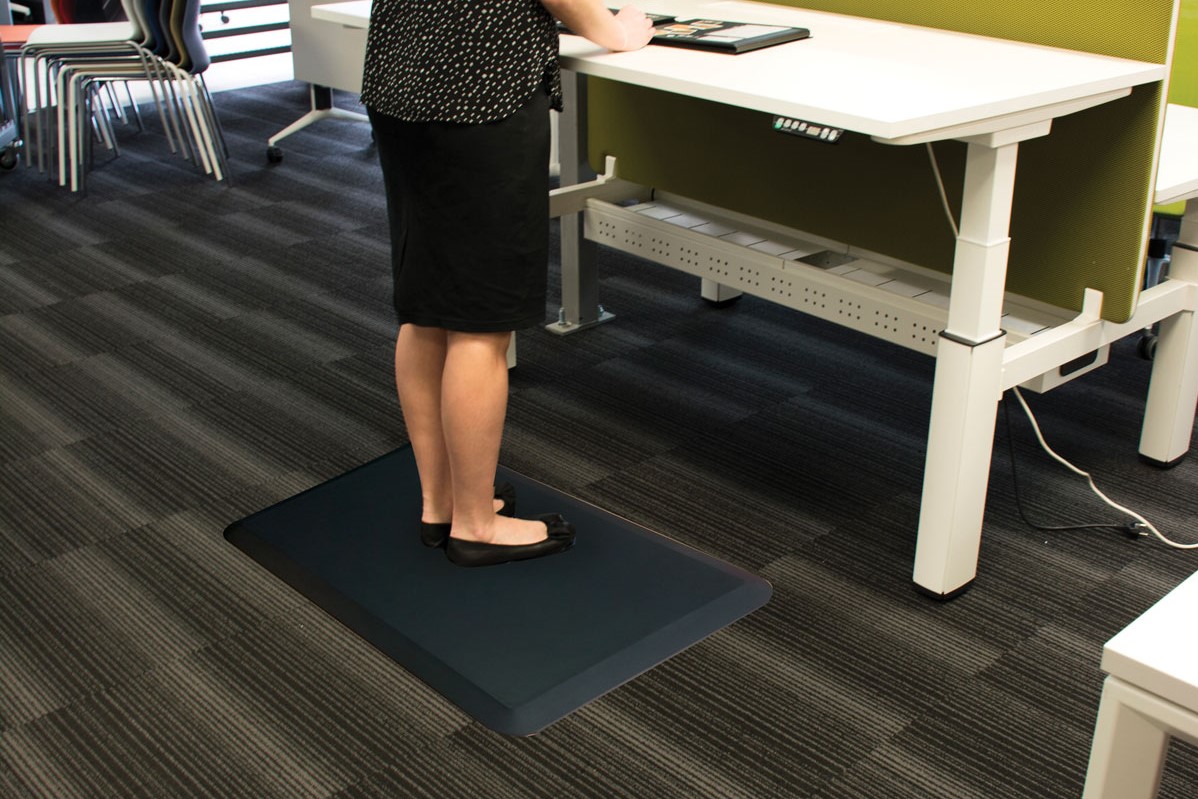 When you work in an office you need to remember that movement is of prime importance to keep blood circulation flowing smoothly through your muscles. So though most office jobs entail sitting for long hours you should break the routine and alternate between standing and sitting, at least 12-16 during your 8 hour shift. What will make the standing stretch more comfortable is the use of an anti-fatigue mat.
Benefits of using an anti-fatigue mat
There are specially designed anti-fatigue mats to give relief to people who use a standing desk at work. These mats will alleviate your legs experiencing tiredness while standing, enabling you to concentrate better on your work. The blood flow in your body improves, as in an upright position the muscles in the back of your legs are in use as compared to a sitting position. A good balance while in standing position will reduce levels of weakness and pain in the legs and improve energy.
A study on anti-fatigue mats reveals that they reduce fatigue experienced by people who need to stand on hard surfaces for long hours in the day. Balance is very important while standing. Your weight needs to be distributed evenly and if not achieved, it could put pressure on your joints, spine and back.
While it may prove difficult for a person to change his or her overall standing movements, concentration should be focused on shifting weight from one side to another to alleviate pain and fatigue. By using an anti-fatigue mat this type of set behaviour undergoes a subtle change, almost unconsciously. Energy levels are improved and joint pains are controlled.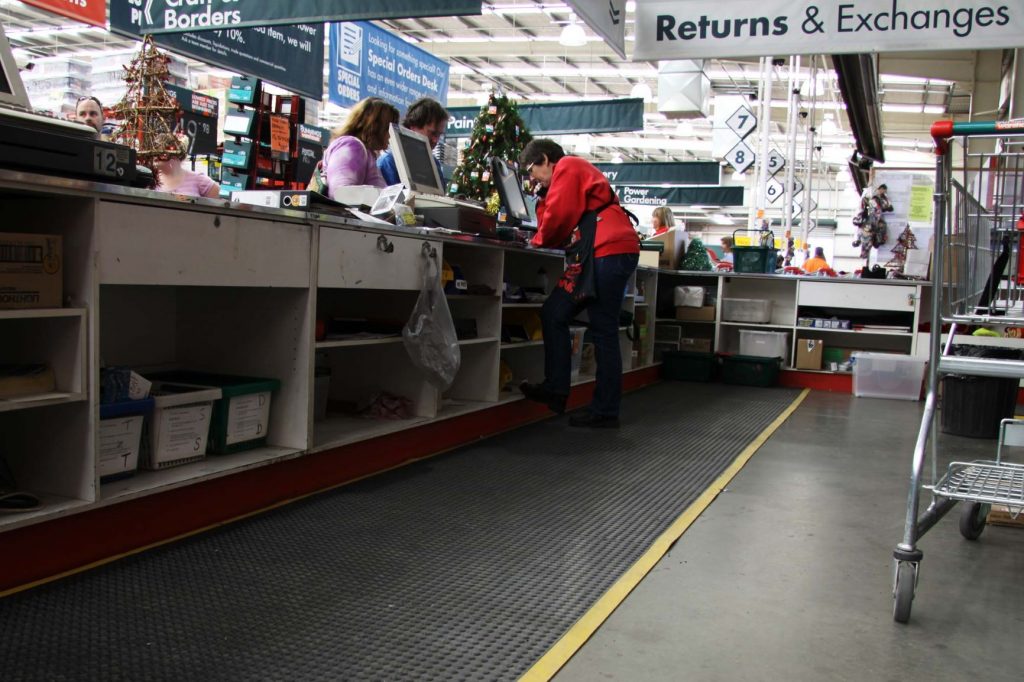 Choosing the right anti-fatigue mat
There are a host of anti-fatigue mats available in the market. Check out the selection at Allway matting, focusing on the following features:
The mat should be made of polyurethane, puncture resistant and easy to clean.
Choose a mat that will fit snugly under your desk, allowing you enough room.
Since standing involves continuous body movement, the front and back corners of the mat should be a bit higher than the sides with a teardrop mound in the centre.
When standing, the mat should not feel too soft under the feet.
The mat should be easy to move from beneath your desk and pushed back in.
Summary
In summation the anti-fatigue is an invention for people who need to stand long hours during their work routine. Key benefits of using an anti-fatigue mat are:
Stimulation of blood circulation
Improves body posture
Keeps energy levels up
Prevents body aches
Prevents danger of slipping or falling
Helps to improve productivity
Acts as a safety net for any falling object
Generates overall comfort
Use of anti-fatigue mats need not be limited only to places where you would need to stand for long hours – such as restaurants or offices. Wherever and whenever you need to spend long hours on your feet invest in a good anti-fatigue mat. You will immediately notice the lessening of tiredness and pain, and your ability to achieve more in a shorter period of time. Consider getting an anti-fatigue mat as a valuable investment in your general health.
BACK TO ALL POSTS